JBL Food Range : for Baby fishes and fish fry
JBL NobilFluid Artemia
Liquid breeding diet containing brine shrimp and vitamins
For fry of egg-laying fish, which are too small for powder food. Contains brine shrimp to facilitate growth.
Ultra-fine homogenate of over 50 raw ingredients.
With a special multivitamin complex and stabilised vitamin C.
http://www.eastoceansg.com/jbl-nobil...ml-p-2119.html
JBL NovoTom Artemia
Powder food for young fish, containing artemia (brine shrimp)
Food size optimally suited for newborn fry of livebearing fish. Nutritionally balanced to promote healthy growth.
Special finely-ground ingredients.
With brine shrimp ingredients for better growth and more beautiful colours.
With natural Vitamin E as antioxidant.
Unlike with livebearers (such as guppies and platies) this food size is only suitable for egg laying fish of 5-10 mm length or more. Younger fish need first JBL NobilFluid Artemia or infusoria and later live artemia.
http://www.eastoceansg.com/jbl-novot...ml-p-2128.html
JBL ArtemioMix
Artemia ready-mix (eggs/salt)
A ready mix comprised of brine shrimp eggs with salt and micro-algae to feed your crustaceans.
Simply add 3 measuring spoonfuls (included) to 0,5 l mains water. Salt contains a buffer system for an optimum pH level of the water. The brine shrimp hatch after 24–36 hours.
230 g ready mix for 14 applications of 0,5 l each.
http://www.eastoceansg.com/jbl-artem...ml-p-2096.html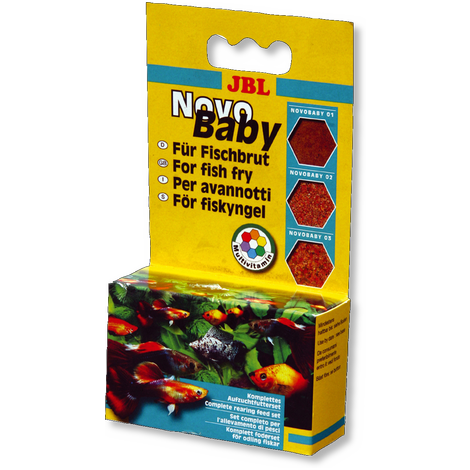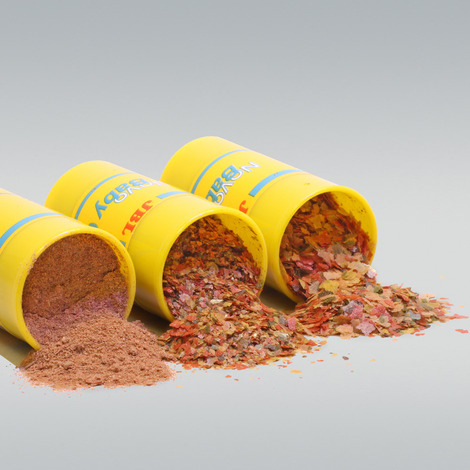 JBL NovoBaby (Coming Soon)
Breeding-diet set for young fish
3 Food tins containing various grades of diet in a set.
3 foodsizes:
1. Newborns up to 15 mm
2. approx. 15-30 mm
3. from about ca. 30 mm