Let's try to list the different grades and how the grading is done. CRS/BDS grading in general, are listed by C, B, A, S, S+, SS (hino), SSS (mosura). C being the lowest grade and SSS being the highest. Refer to the first post in this thread, look at the section on "Body". There are 4 rows under "Body".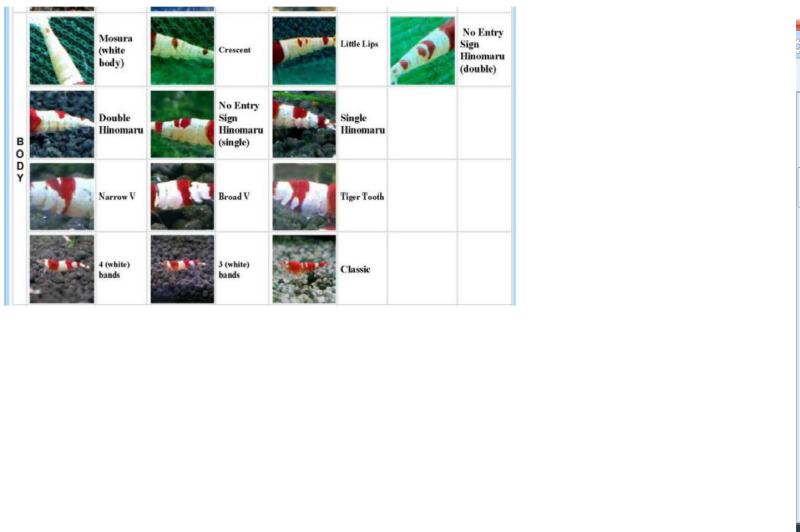 C grade. The bottom row, right picture "Classic".
B Grade. The bottom row, middle picture "3 "white" bands".
A Grade. The bottom row, left picture "4 (white) bands".
S Grades. 2nd last row.
- S+ Grade. Left picture "Narrow V".
- S Grade. Middle picture "Broad V", and right picture "Tiger Tooth".
SS Grades (Hino). 2nd top row.
Look at the middle red patch (on the body). The red doesn't stretch all the way down compared to S grades. The Red is only a patch.
- Single Hino (SS) is where the red patch at the tail section is unbroken (all the way down)
- Double Hino (SS) is where the tail section is broken by white.
SSS Grades (Mosura). Top row.
SSS usually has little or no red patch on the mid section. The little patch on the back is sometimes confused with SS grade. Some will grade it as SS, some as SSS.
Lastly, the thickness of white also determines the grading. Higher grade has very thick white, nice solid red. In cases where the color is weak but the patterns are under any of the above grades, some will grade it lower, some will maintain the grade but calls it "culled".
I can be wrong above. Let the experts come in and correct it. The above is only trying to help clear the air a little, than to have people continue misleading newbies, passing off A grade as S or SS grade.
---------------
Head patterns are not discussed in this illustration. Also excluded are the exotic Wine Red (WR), Panda, Black King Kong, etc.