I have been feeding all sorts of pellet food for my turtles since I got them 3 years ago. I started with cheap Oxxxn Free stuff which turns out to contain loads of unneeded food colouring and rather indigestible since the poo turns whatever shade of colour the pellets are.
Then I move on to a unknown brand which is very green in colour but seems to work fine for pets until the shop I purchase from stop ordering them and the stock ran out. I start feeding Raffy P for a while is pretty good though rather expensive. During this period, certain pits on my turtle's shell starting to heal and patch up.
I finally moved on to feeding Hikari Turtle Stick which I find the best among the lot tested so far. The amount of waste is considerably less when compared to the rest of the pellets and is pretty obvious on the filter wool I used for filtration. Going at 4-5 bucks for a 53g pack is alright since I have only 2 turtles and feeding is light mixed with romaine lettuce on alternate days.
But then after reading some articles on the web with regards to soy meal and observing the breeding pattern of my fish fed with soy-based food, I decided to throw out all food containing soy meal and that includes New Life Spectrum and the Hikari Turtle Sticks. I may be paranoid but I see too much evidence to be a coincidence.
Okay so after all that long talk, I shall now introduce my turtles' current new pellet diet.
After much research and price comparison, I have settled on 2 products from Hikari which I find give me the most value-for-money and nutritional value for my turtles.

Hikari Wheat Germ (for Koi)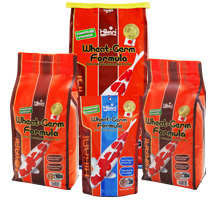 It's price tag caught my eye. The cost for pack of 500g is about $6.50 to $8.50. 500g is a rather big pack and is twice the weight of a 250g Raffy P that cost between $19 to $23. Nutritional value-wise, it contains all the ingredients of Hikari Turtle Sticks and more, except for the soy-meal and calcium lactate which is a source of calcium. Vitamin D3 and garlic is included as well.
Ingredients:
Wheat-germ meal, fish meal, wheat flour, rice germ meal, gluten meal, wheat bran, starch,dried bakery product, enzyme, brewers' dried yeast, garlic, monosodium glutamate, vitamin A oil, vitamin D3 supplement, vitamin E supplement, menadione sodium bisulfite complex (source of vitamin K), choline chloride, l-ascorbyl-2-polyphosphate (stabilized vitamin C), calcium pantothenate, riboflavin, thiamine mononitrate, pyridoxine hydrochloride, niacin, folic acid, biotin, ferrous sulfate, magnesium sulfate, zinc sulfate, magnesium sulfate, cobalt sulfate, copper sulfate, calcium iodate, aluminum hydroxide, selenium yeast.
Guaranteed Analysis:
* Crude Protein - 32% Min.
* Crude Fat - 4% Min.
* Crude Fiber - 4% Max.
* Moisture - 12% Max.
* Ash - 12% Max.
* Phosphorus - 0.7% Min.
Wheat-germ is said to be highly digestible and looking at the waste output I must say this might well be true. I chose the floating, medium-sized pellets which fits into the mouth of both my 3 month-old and 3 year-old turtle. Smells pretty good.
More info:
Hikari Wheat-Germ
- - - - - - - - - - - - - - - - - - - - - - - - - - - - - - - - - - - - - - - - - - -
Hikari Excel (for Koi)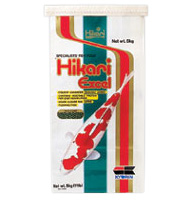 It is a little more pricy than Wheat-Germ for a 500g pack. Price range from $14 to $19. But than again it is still pretty cheap for a big pack. Nutrition-wise, it contains Spirulina, Krill, Wheat-Germ, alfalfa meal and astaxanthin. Alfalfa meal is a good source of calcium which should make up for the lack in the Hikari Wheat-Germ.
Ingredients:
wheat-germ meal, white fish meal, wheat flour, dehydrated alfalfa meal, spirulina, brewer's dried yeast, vitamin A, vitamin D3, vitamin E, vitamin K3, vitamin B12, l-ascorbyl-2-polyphosphate (stabilized vitamin C), magnesium carbonate, manganese sulfate, calcium iodate, methionine, lysine.
Guaranteed Analysis:
* Crude Protein - 35% Min.
* Crude Fat - 4% Min.
* Crude Fiber - 3% Max.
* Moisture - 10% Max.
* Ash - 10% Max.
With the spirulina and astaxanthin providing the health benefits, the krill meal for the chitosan and the alfalfa meal for the calcium, this pellet will round up the entire diet. I again chose the medium floating pellets which is the same size as the Wheat-Germ but a nice green colour.
More info:
Hikari Excel
-----------------------------------------------------------------------
What I did essentially is to combine the 2 pellets into a empty air-tight container in the ratio of 2 parts Wheat-Germ to 1 part Excel. Since Wheat-Germ is much cheaper, this allows me to further save on cost.
The cost breakdown goes (for me):
$6.50 (wheat-germ)+ $14 (excel) = $20.50 for 1kg of good nutritional turtle food.
1 kg can last about 2-3 months depending on feeding habits.
If you are worried about feeding koi pellets to turtles, I can assure you it is fine. The ingredients are mostly the same among Hikari food products and quite interchangeable. I have been feeding Hikari Cichlid pellets to my goldfish for a couple of months now and my turtles has been on the new diet for over a month. Judging from their hungry, almost begging, expression they like the new diet a lot.
Hope this helps all turtle-lovers save on food costs and benefit from the increased nutritional value.